How To Throw a Las Vegas Themed Party
Casino Royale. Eat your heart out. Let's face it, Vegas, for all its bawdy ostentatiousness, is undeniably cool.
How To Throw a Las Vegas Themed Party faqs
Set The Scene:
Ideally you want your guests to feel like high rollers the second they walk in. This means establishing the theme early so that they all dress the part and are getting into character before they even arrive. Gents – tux and bow ties, ladies – cocktails dresses. We are thinking $10,000 blackjack tables rather than dime slot machines OK? A cocktail waiter or two to offer them welcome drinks – standard at every self-respecting casino – will add that special Vegas vibe.
Light Up:
Casinos use crazy lighting to disorientate the patrons into staying longer. No one knows whether it's day or night so the dollars keep flowing. Make like a real casino and dim those harsh overhead lights. Bring in some evening lighting. Red, gold, loud, dazzling lights. It needn't be classy but it does need to be dramatic. Casinos often use baroque or art deco style: chandeliers and mirrors.
Keep It Classic:
You don't need to exercise restraint. Draw on the classic Vegas iconography – bring in a roulette wheel, a bunch of poker chips and of course a croupier. A 'Welcome to Las Vegas' sign, stripped in rope lights at the entrance will ramp up excitement and encourage your guests to get into character. Neon signs if you can source them will summon the image of 'the strip'. And don't forget that palm trees are a fixture. Plus, statues, balloons, globes and even the Eiffel tower and the pyramids.
Movies:
Vegas was made for the movies. And what a cast it has seen over the years. It could be fun to channel those infamous movies that are set in the City of Sin. Notably, Fear and Loathing in Las Vegas, Ocean's 11, Swingers, Casino Royale, 21, Leaving Las Vegas, Showgirls, Molly's Game and of course – the original – Casino. If any characters from those movies make an appearance, things could get very interesting.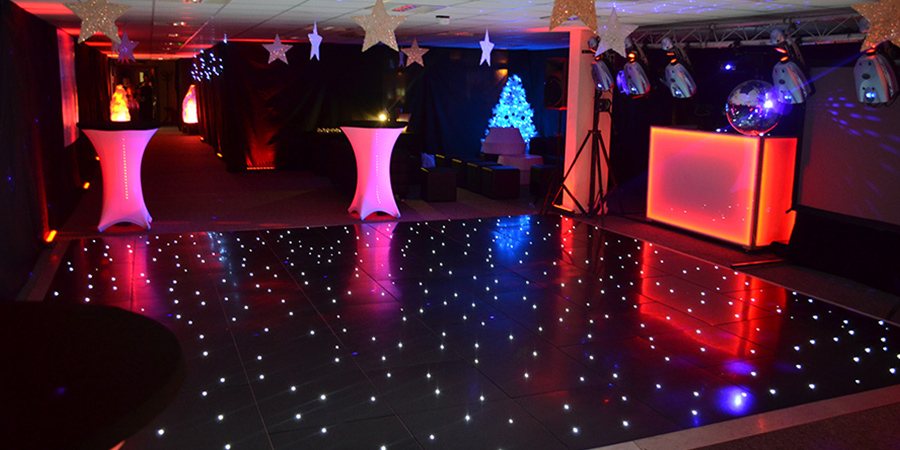 Nibbles and Drinks:
Casinos bring free food and drink to tables if money is being spent. So, keep it authentic and make sure those cocktail barmen are circulating taking orders (Martini-based if you like) and keeping the nibbles well stocked.
Dancefloor:
A light up dancefloor and DJ booth would really complement this theme. Start your own casino playlist for arrival and then rap it up once people are ready for the floor. Or maybe they'll be too busy with that poker game…